"Employees were young and independent, and they worked from wherever in the world they wished. They rarely used e-mail, launched new work into the world every day, and had an open vacation policy. If a work culture qualified as being from the future, this was it." –Scott Berkun, in reference to working for WordPress.com, The Year Without Pants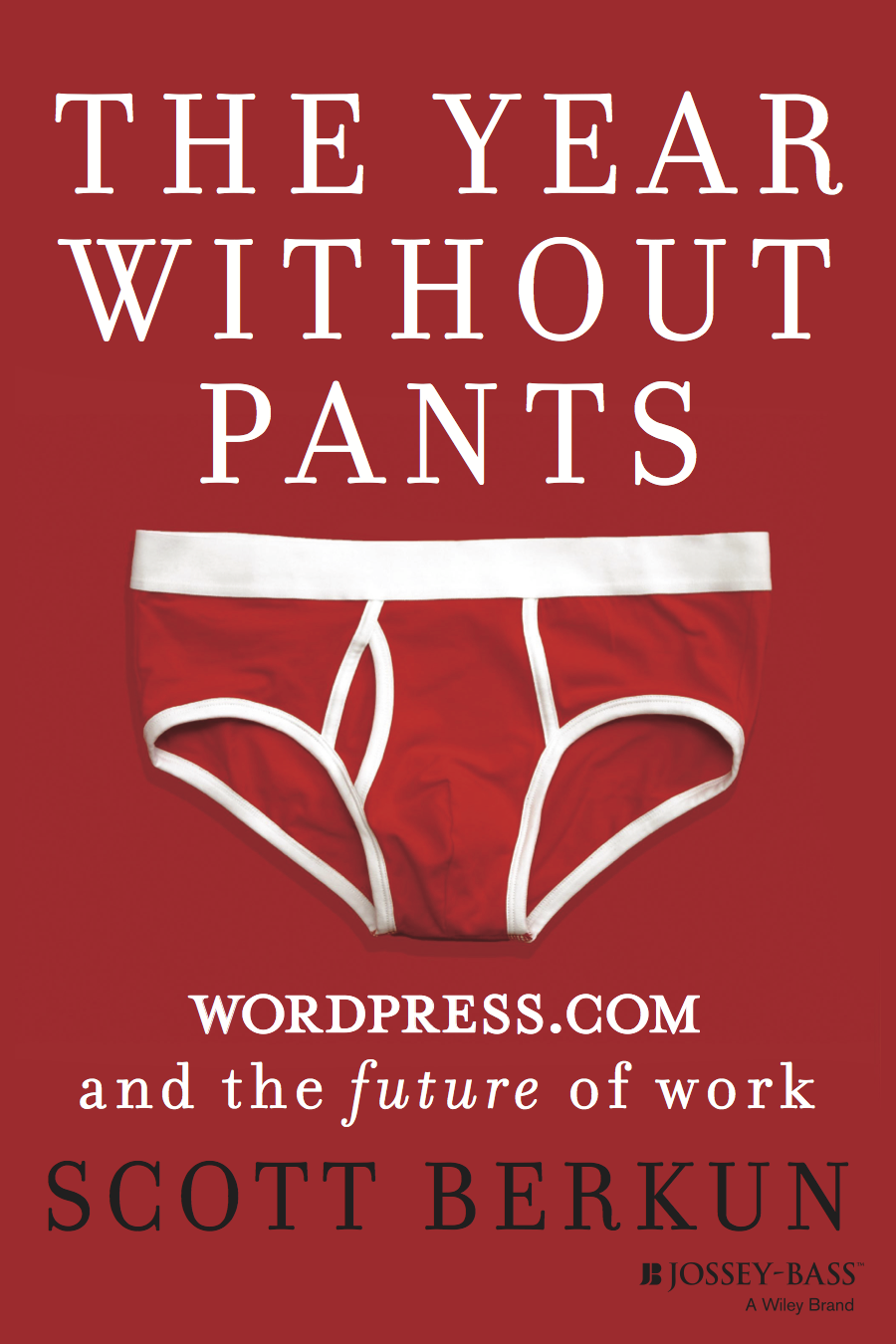 Just last week, Scott Berkun's latest book The Year Without Pants was released – a culmination of three years of effort chronicling his time at Automattic and the many lessons he learned about remote work there. First, I must admit – I'm a Berkun fan. His writing is always clear and to the point, and his advice is refreshingly original … and effective. Hence when this book came out, I made it my second Kindle purchase ever. (The first was Life of Pi, after the movie came out… I had to!)
So I've started reading this book about trying remote work and (maybe not so) coincidentally, I am also starting an experiment of my own. I just flew into New York City to begin a month away from my corporate headquarters, planning to travel along the East Coast doing customer visits and getting work done primarily on my mobile devices. (Disclaimer: I work on mobile apps for Box.)
I plan to document my travels in the coming weeks with a focus on learnings. I'll likely leverage some of the tips dropped in The Year Without Pants, but I hope that I'll be able to come up with some novel techniques for effective remote work on my own. I've already got a few tricks up my sleeve that wouldn't apply at Automattic, not least of which is my multi-platform arsenal of mobile phones and tablets that I'm carrying with me. 🙂
But before I delve into the same type of participatory journalism as Berkun, I wanted to clarify my rationale for this trip and how I decided to do this. It really comes down to three factors:
Two of my cousins in New York City are getting married one month apart from each other. While this is cause for much joy within our family, I didn't think fondly of having to fly across the United States twice within a month… so why not just stay in the month between? 🙂 Plus, I'm originally from New York City and have always wondered what it would be like to live as a local once again – and this seemed like the perfect chance.
Product managers at Box (and any company, really) should do more in-person customer visits. I usually approach these as usability studies (the contextual inquiry technique, anyone?) but we're finding they are a great way to build trust and empathy for both parties involved. Just having a representative take the effort to trek out to a customer office wins lots of points – even better when that representative can apply feedback straight into the products! Since we don't have a big office presence on the East Coast (yet!), doing this is a chance to see customers who don't often get as much attention as those in California.
I believe the future of work is mobile. So cliché now, I know. But as someone who actually gets 70% of his work done on mobile devices, I'm fairly certain I'm near the cutting edge of this trend. So I want to push the current limits and see how far I can go running on mobile devices alone. Some might say I'll take a hit to my productivity. But what if my productivity actually increases? What if the lack of a commute, traffic, and having to wander from conference room to conference room saves me so much time that I can actually get everything done in a day without compromising my sleep schedule? What if getting nuggets of work done while on the train, waiting at restaurants, or in my bed napping all added up to hours of time I can have later to pursue long-form work and long-term strategic thinking? What if the task-specific nature of the mobile apps I use actually help me focus on drilling down through inboxes, feeds, and todo lists faster than on a desktop machine? I believe these all could be true – and my goal here is to find out what it takes to make true remote, mobile productivity a reality.
So when all these factors jelled in my mind, I made the decision to take the dive (a bit abruptly) and booked the flights. And now here I am, residing in a nice family home in the Bensonhurst area of Brooklyn – taking care of business as usual and preparing for my first customer visit in Boston on Thursday. Can't wait to see how it goes!