What makes a place unique or interesting? One might argue that local culture is the primary reason why people enjoy living in or visiting the neighborhoods they do, which suggests that uncovering what defines or exposes that culture is a valuable exercise. Hints of this can be found all over the built environment in cities. In particular, many examples of how local culture can be reflected in and influenced by the built environment can be seen in the design of public gardens, religious buildings, mural art, alleyways, and street-side dining.
Learning about the history of public gardens is a particularly effective way to realize the cultural backgrounds of local residents. For example, the Royal Botanic Gardens in Sydney is a long-standing testament to the value that Australians place in the rich biodiversity their relatively isolated environment engenders. It was founded as part of the first colonial farm by British settlers and quickly became a critically important center for botanical research of native and exotic plants. Planners moved to preserve this prime agricultural land, recognizing its value as a scenic piece of landscape near the city center. (McHarg 1969) Notably, the gardens also intentionally feature a high-Victorian/Edwardian Gardenesque landscape design (Heritage NSW 2005) to reflect the traditional aesthetic preferences of those early colonists.
The Classical Chinese Garden in Vancouver's Chinatown is another example of design reflecting local culture. It was funded and built as a collaboration between Chinese and Canadian governments, demonstrating the strong ties between the two countries rooted in migration. The plants and materials used in its construction came directly from Suzhou, authentically modeling the traditional style of gardens from the Ming Dynasty era. The garden is also named after Dr. Sun Yat-Sen, a Chinese philosopher who traveled extensively in Canada to promote cultural understanding with China. (Dr. Sun Yat-Sen Classical Chinese Garden 2021) Today, the garden acts as the centerpiece and social gathering space for the local Chinese community, continuously reminding them of historical ties to their homeland and reinforcing their sense of identity much like the Boys Town pylons in North Halsted, Chicago (Reed 2003).
Religious buildings are also common elements in cities that help in reflecting local culture. In the historical center of Florence, the famous Duomo dominates the skyline because of the indisputable cultural importance of the church – so great that no other buildings have ever been allowed to be built any taller. The design of the dome itself is based on unique architectural decisions made in 1367, influenced by the start of the Italian Renaissance. These included the refusal to use Gothic-style flying buttresses, which were seen as ugly and favored by enemies to the north. Instead, the dome was built as a double-layered shell sitting on top of an octagonal drum, requiring complex and unprecedented engineering feats to complete. (King 2000) Today, the Duomo is still the pride of the city, though it has controversially made Florence into more of a tourist destination than anything else.
Masjid Sultan in the Kampong Glam enclave of Singapore is an example of the power of a religious landmark to significantly define the culture of a neighborhood. While the area began as the Arab and Malay kampong (village) subdivision as defined by the original Raffles Plan by colony founder Sir Stamford Raffles, it has come to be known as the "Muslim Quarter" over time due to the growth of Singapore's Muslim community around this premier mosque. It sits at the terminus of several notable streets in the neighborhood, providing a visually striking reference point and thus contributing to the "greatness" of those streets (Jacobs 1995). In its latest incarnation, it was designed with a Saracenic style, reflecting the British origins of both the colony and the plan that established Kampong Glam. Now Masjid Sultan serves as the largest Muslim prayer hall in the city-state as well as a showcase for tourists to learn about the rich history of the ethnic enclave in which it sits. (Sultan Mosque 2016) To ensure its connection to the local community, the mosque itself is managed by a board of trustees comprised of two representatives from each of six different local Muslim ethnic groups.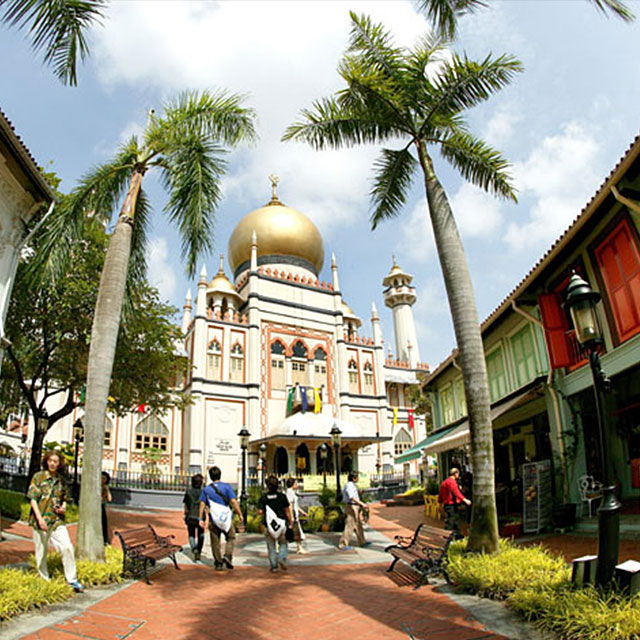 Murals are another way local culture is manifested in the built environment. Salt River near Cape Town features a plethora of murals by local artists depicting prominent politicians, endangered animals, and the struggles around apartheid. While originally graffiti was declared a public nuisance by the city in 2010, these particular murals were officially permissioned to a set of well-regarded artists in the community. (Kretzmann and Feni 2019) The city has also allowed Baz-Art, an NGO, to add to the collection of public art in a series of festivals over several years, resulting in the current collection of over 100 murals.
This top-down approach to producing murals contrasts with some of the more informal art that led to the creation of Graffiti Alley in Toronto. Here, there was a long-running debate over the value of graffiti with many crackdowns on perceived "graffiti vandalism" across the city. However, the Queen Street West Business Improvement Association argued that the laneway art in their neighborhood was drawing photographers and tourists to the area, essentially animating the otherwise unused public space with its aestheticizing effects. (Glover 2020) Eventually, the nearly one kilometer stretch of public art was designated an area of municipal significance and now enjoys legal status. (Bragagnini 2016)
Similar to murals, the composition of alleyways is another way local culture can be reflected in the built environment. For example, Melbourne's famous laneways that crisscross the CBD area are full of art, boutique shops, bars, and cafés that showcase the stunning tapestry of bohemian culture the city is known for. (City of Melbourne 2021) Every laneway is unique, but several stand out for being especially representative of the local values. Hosier Lane is filled wall-to-wall with the works of local artists as well as international collaborators. Flinders Lane has become the hotspot for local designer fashion labels. Centre Place and Degraves Street, designed together with what Edmund Bacon would call sinuous progression where one leads into the other (Bacon 1974), has plenty of the hole-in-the-wall restaurants and cafés that epitomize the city's food scene. In a bit of the aspirational type of DIY urbanism (Douglas 2018), locals have even gone so far as to unofficially rename one as "AC/DC Lane" and adorned it in memorabilia in honor of the rock band that started their career here.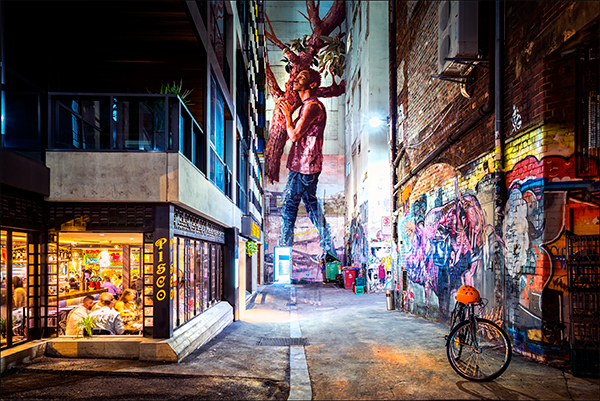 In the North Beach district of San Francisco, alleyways are utilized by the locals in a completely different way. Here, the hilly nature of the terrain allows for stunning natural vistas and the mild weather enables greenspaces all year-round, so residents have turned the alleyways into a constellation of micro-parks between buildings in acts of guerilla gardening (Lydon, et al. 2012). Each one is a hidden gem, known only to the neighbors who have banded together to maintain them and those curious enough to seek them out using a guide. (Kenin 2016) Features such as water fountains, Buddhist statues, and avant-garde art are added to enhance the pedestrian experience, based on the tastes of the surrounding residents. Often, there will be a lookout point or angle where one can see through the alley out to a piece of the San Francisco skyline, maximizing the reward of climbing all the stairs needed to traverse these back streets. These details all demonstrate the level of pride that the local residents take in these spaces, and how these alleyways define much of the value of the neighborhood and San Francisco at large.
The arrangement of street-side dining is yet another way local environments differ based on the surrounding culture and values. For example, in District 3 of Ho Chi Minh City, one will find an endless array of small quick-service restaurants and cafés. Each typically specializes in a single type of food and operates out of the front of a personal home in an extremely efficient utilization of the building façade, an excellent example of the assembling properties of soft edges (Gehl 1971). These setups reflect the unique entrepreneurial spirit of the Vietnamese residents here, who are known to enjoy running their own independent businesses but have difficulty finding space to rent in the densely packed city. These family-owned restaurants and cafés are so popular with the locals that Ho Chi Minh City has become famous as the place where international chains often fail in their expansion efforts. Starbucks, for example, has struggled in Vietnam due to the fierce competition from local coffee shops. (Hookway 2013)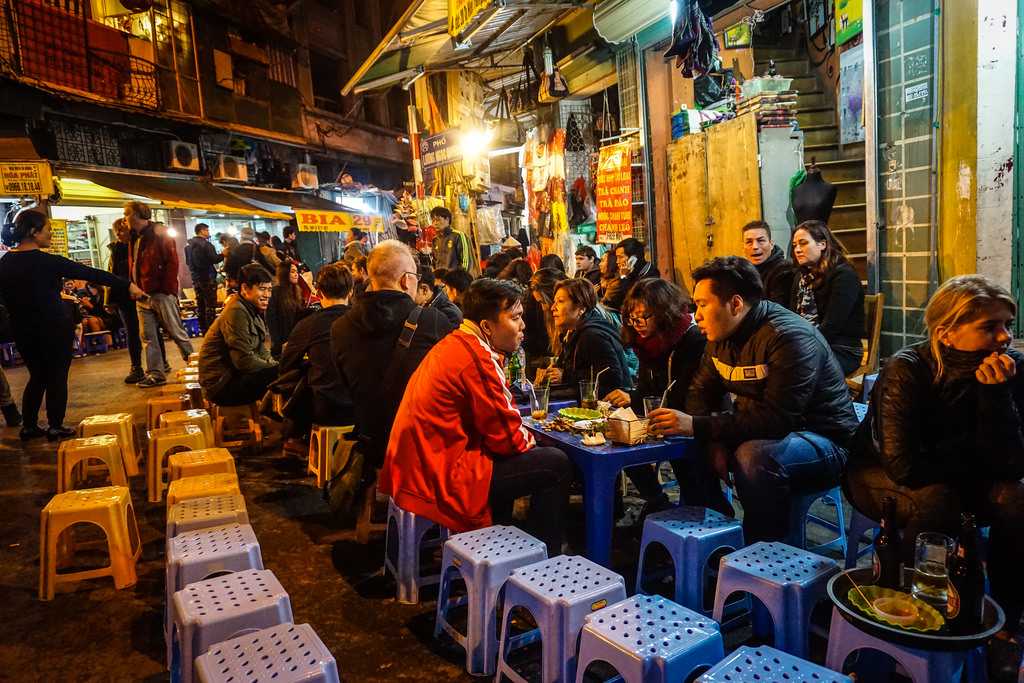 One can find the Peruvian version of street-side dining in the less tourist-oriented districts of Lima, such as Lince. Here, clusters of street food stalls can often be found close to markets or bus stations where the locals regularly pass through, blending the concepts of adapted spaces and flow facilities coined by Kevin Lynch (Lynch 1981). Culturally, street food is considered more of a snack between meals, so the stalls specialize in small and portable delicacies such as anticuchos (skewers) and ceviche. A clear connection can be drawn between this style of street food in Latin America and the informal setups of Latino street food vendors near bus stops in Los Angeles. (Rojas 2010)
These examples of public gardens, religious buildings, murals, alleyways, and street-side dining all show how the richness of local culture can be represented in the built environment. Every instance of these, designed by either a government sponsor from the top-down or passionate residents from the bottom-up, adds flavor to cities and contributes to the unique identity of the neighborhoods they sit in. In this way, these elements are what make cities interesting and hence explain the broad public appeals for preservation.
References
Bacon, Edmund. Design of Cities. New York: Viking Press, 1974.
Bragagnini, Carla. Toronto's Graffiti War: Art or Vandalism? February 29, 2016. https://theculturetrip.com/north-america/canada/articles/toronto-s-graffiti-war-art-or-vandalism/ (accessed November 8, 2021).
City of Melbourne. City Laneways. 2021. https://www.visitmelbourne.com/Regions/Melbourne/Destinations/Laneways.aspx.
Douglas, Gordon C.C. The help-yourself city : legitimacy and inequality in DIY urbanism. New York, NY: Oxford University Press, 2018.
Dr. Sun Yat-Sen Classical Chinese Garden. Our Story. 2021. https://vancouverchinesegarden.com/our-story/.
Gehl, Jan. Life between buildings using public space. Washington, D.C.: Island Press, 1971.
Glover, Troy D. "Bringing public spaces to life: the animation of public space." In Companion to Public Space, by Vikas Mehta, & Danilo Palazzo, 414-425. New York, NY: Routledge, 2020.
Heritage NSW. The Royal Botanic Gardens and Domain. 2005. https://apps.environment.nsw.gov.au/dpcheritageapp/ViewHeritageItemDetails.aspx?ID=5045297.
Hookway, James. Starbucks Brings Its Culture to Vietnam. May 17, 2013. https://www.wsj.com/articles/SB10001424127887323582904578487192544295444 (accessed November 8, 2021).
Jacobs, Allan B. Great Streets. Cambridge, Mass.: MIT Press, 1995.
Kenin, Alexandra. Urban Trails: San Francisco. San Francisco: Mountaineers Books, 2016.
King, Ross. Brunelleschi's Dome: How a Renaissance Genius Reinvented Architecture. New York: Bloomsbury, 2000.
Kretzmann, Steve, and Masixole Feni. Cape Town's iconic murals. March 14, 2019. https://www.groundup.org.za/article/cape-towns-iconic-murals/ (accessed November 8, 2021).
Lydon, Mike, Dan Bartman, Tony Garcia, Russ Preston, and Ronald Woudstra. "Tactical Urbanism." Issuu. March 2, 2012. https://issuu.com/streetplanscollaborative/docs/tactical_urbanism_vol_2_final (accessed November 8, 2021).
Lynch, Kevin. A Theory of Good City Form. Cambridge, Mass.: MIT Press, 1981.
McHarg, Ian L. "Nature in the Metropolis." In Design with nature, by Ian L. McHarg, 55-61. Garden City, N.Y.: Natural History Press, 1969.
Reed, Christopher. "We're from Oz: marking ethnic and sexual identity in Chicago." Environment and Planning D: Society and Space 21 (2003): 425-440.
Rojas, James. "Latino urbanism in Los Angeles: A model for urban improvisation and reinvention." In Insurgent Public Space, by Jeffrey Hou, 36-45. Routledge: Latino urbanism in Los Angeles: A model for urban improvisation and reinvention, 2010.
Sultan Mosque. Sultan Mosque History. 2016. http://sultanmosque.sg/about-us/sultan-mosque-history.